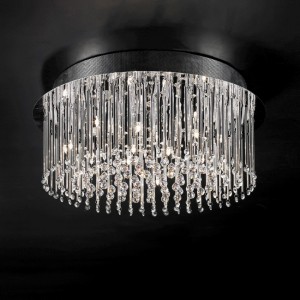 It's very important to remember when decorating your home or office that your lighting fixtures are there to serve you and your needs. They create the atmosphere in a space. Their aesthetic and emotional impressions create the mood in each room in your home, so care should be taken in choosing them carefully.
There are a few things to consider when choosing lighting fixtures in Toronto. Look for a locally-based lighting store with experienced staff. You need to decide if you are using it for a decoration, wow-factor, a piece that will create a first impression, or if you are using it for functionality, but obviously still require beauty. Ask yourself "why am I buying this fixture"? This will help you to determine which lighting fixture will be the most appropriate for your need.
In addition, when purchasing lighting for a specific space, you need to consider the size of the fixture. Installing a large over-sized chandelier in your bedroom, or a small, single pendant to light up your living room, may not be your best choice. Lighting needs to be proportionate to the room size. A larger room obviously requires larger lighting fixtures, while a smaller room requires smaller ones.
Another important aspect to consider is that lighting fixtures can bring out the beauty in your living spaces, create ambiance, highlight textures, accentuate artwork, and at the same time provide the correct amount of illumination to the setting. The lighting for your living room is not going to be the same as the lighting for your kitchen or an office space. Lighting is a very important part of the decor experience of your home or office. The light bulbs you choose will also affect how the lighting will impact the room. Bulbs are differentiated by type of technology they use, the amount of light they emit, how much energy they use, and the color of the light they radiate. Be sure to consider these things when planning the lighting requirements for your room.
If you're considering a lighting fixture Toronto purchase, don't make it a "hit and miss" event, talk with someone who can advise you and provide you the best options for your interior, exterior and space requirements.